Bruno Falkenstein has been the marine turtle permit holder for St. Pete Beach and Shell Key since the inception of the FWC Statewide Nesting Beach Survey. Bruno has managed and monitored hundreds of sea turtle nests since 1979 and enthusiastically educates members of the public at every opportunity about all aspects of marine turtle conservation. A natural teacher, he has inspired the interest of, mentored, and recruited untold numbers of turtle advocates both on the beach and in his off-the-beach life as a successful restaurateur and sometimes politician. Bruno is the heart and soul of our organization and still actively patrols and responds to stranding calls.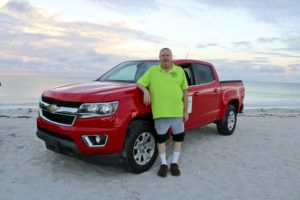 "Turtle Joe" Widlansky
"Turtle Joe" Widlansky came to Sea Turtle Trackers from Clearwater Marine Aquarium where he was a Sea Turtle Biologist (2005-2013) and a volunteer in Sea Turtle department (2002-2004). While at CMA, Joe was responsible for sea turtle nest patrols in south Pinellas and worked with sea turtle rescue, rehabilitation and release. During that time, Joe worked closely with Bruno and served as his backup.
Joe is a founding member of the Sea Turtle Trackers, Inc. Board of Directors, serving as Vice President of Operations. You can typically see Joe driving the Turtle Truck during Nesting Season and year-round at the Tradewinds Resort Tuesday Turtle Talks.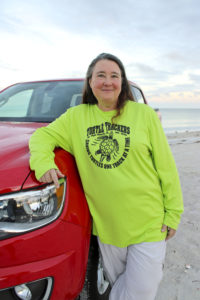 Theresa Arenholz
Theresa Arenholz founded the nonprofit organization Sea Turtle Trackers, Inc. to support the work that Bruno and his team have been doing for decades. She has served a variety of roles on the Board of Directors and on the Operations team, and is responsible for nonprofit operations, social media, community outreach, program management and information technology. Theresa has volunteered in sea turtle nesting and rehabilitation since 2004. She is a supervisor on St. Pete Beach Patrols.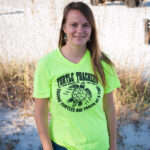 Lucy Monette
Lucy Monette moved from Burlington, VT to Florida in 2007 to attend the University of Tampa where she received her Bachelor of Science in Psychology. Through an internship with wolves in New Mexico and a variety of other animal related experience including working with marine life, big cats, farm life, and domestic animals, she discovered her passion was in animal welfare. She currently works at the Humane Society of Pinellas as the Education and Outreach Coordinator.  Lucy is also a Supervisor/Captain on the Shell Key team.
Kim Liston
Kim Liston drives St. Pete Beach several times a week during nesting season looking for new and hatched nests. She is responsible for keeping the nesting records for St. Pete Beach.  In addition, she is also our first responder for live strandings and helps with educational events. Kim has been with Sea Turtle Trackers since 2014 and is a vital part of the success of St. Pete Beach and Sea Turtle Trackers overall.  Kim lives with her husband Frank and her dog Jax in Vina Del Mar.
Melinda McKenna
Melinda McKenna started as a beach walker at the beginning of the 2018 season.  In late fall, she joined the board as Treasurer. Melinda is a regular St. Pete Beach driver, runs the Calendar team, works many events and is the board liaison/chair of the fundraising committee.  In her other life, Melinda is a Disney fanatic and works as a realtor with Luxury & Beach Realty.