A special thanks to:
CABA
Sand Dune Beach Services
Sand & Soul John's Pass
St Pete Beach Classic
Beth Morean
Kathy Hamman
Elizabeth Bodgan
Dana Dunn
Gwen & Steve Risner
Daryl Bortel
Kelly Bernish
Nest Adopters 2022
Allyson Garside
Ann Fleeting
Anna Young
Blythe Craft
Brandon Parker
Brianne Whalen
Bridgette Triggs
Brooks Remp
Carol Hansen
Carol Webb
Carolyn Berlanti
Carrie Starks
Casie Shimansky
Cheryl Costello
Daryl Bortel
Deana King
Diane Button
Frank Reinhardt
Glenn Dittmar
Heather Frisch
Jacquelyn M Burrows
James DeMatteis
James wynn
Jennifer Prosser
Jeremy Johnson
Joseph and Susan Ganci
June Johns
Kailey Ousley
karen boyer
Karen Gottwald
Karen Hajek
Karen Van Cleaf
Kathy & Bill Hamman
Lars Folkman
Lauren Englander
Laurie Kegley
Madison Singer
Mel Kadel
Melissa Donley
Nancy Handwerk
Nick DeMai
Phil and Elaine Mount
Ryan Cashe
Sandra Fisher
Sandra Giraldo
Sasi Goldstein
Sharie Lesniak
Susan Bode
Susan Richmond
Terri Anderson
Tiia Thompson
Trevor Mathers
Nest Adopters 2021
Amy Huffman
Anja Hoppe
Barb Clark
Charles Tiernan
Christine Wiegert
Christopher Anderson
Connie Buchanan
Daniel Kohler
Danielle Brennan
Dawn Laine
Debra Rodgers
Donna Bentley
Faith Kepler
Frank Reinhardt
Fred & Pat Wiegert
Gayle Ramirez
Glenn Dittmar
Heather Gantt
Ivy Bevill
Jaime Griffon
Jake Jacobs
Janet Acerra
Jeff Shelton
Jennifer Morris
Jennifer Spisak
Jenny Fauteux
Jessica Catterton
Jim Kilpatrick
Joelle Major
Joseph Burke
K Gohlke
Karen Gottwald
Karen Hajek
Kasey Cursey
Katherine Tipton
Kathleen Koch
Kathy Engel
Kay McCullough
Lauren Englander
Leslie Heintz
Lisa Conca
Maggie Keefer
Maria Erickson
Mary Reish
Michael OHAGAN
Mindy Berks
Nancy Handwerk
Nancy Olson
Pam Tully
Patty Pascua
Paula tusia
Retta Davis
Robert Mulac
Robin Page
Roy and Sally Grumbles
Russell Martin
Sakina Ford
Selga Sakss
Shannon Mulvey
Shelly Cullum
Skye Bancroft
Stefanie Hoft
Stephanie Richardson
Su Campo
Susan Littrell
Susan Pusker
Tammy Moran
Theresa Arenholz
Tracy & Al Zlomie
Veronica Uribe
Vickie Hart
Vicky Foster
Willy LeBihan

Nest Adopters 2020

Simee Adhikari
Ana Adler
Les Amour
Barb Amour
J Anderson
Ryan Ard
Kim Atchinson
Marina Bacher
Aimee Becka
Ivy Muntz Bevill Bungalows
Susan Bode
Elizabeth Bodgan
Jennifer Brackney
Steve Brauner
Connie Buchanan
Jackie Burrows
Rick Campins
Alicyn Cerulli
Ryan Colby
Kerry Conca
Anne Core
Cheryl Costello
Shelley Cullum
Kasey Cursey
Alma Dawson
Nick DeMai
Jim DeMatteis
Glenn Dittmar
Dana Dunn
Kathy Engel
Jean Erbesfeld
Dorothy Fairbank
Michael Fisher
Sandra Fisher
John & Sakina Ford
Beth Fries
Heather Frisch
Joe Ganci
Sasi Goldstein
Jaime Griffon
Claudia Gunther
Brenda Guy
James Guyer
Kathy Hamman
Jon & Carol Hansen
Camille M Hemsworth
Michelle Hoffman
Bev Jackson
French Jacqueline
Jessica Jakubas
Nick Kealey
Seth Keenan
Carin Korros
Jessica LaBenne
Virginia Lee
Walter Mahoney
Sara McConnell
Jean McCorkle
Carol McKinney
James McNeely
Martel Meyer
Pam & Payton Montague
Beth Morean
Claire Ng
Sid and Patty Pascua Sr
Susan Pcholinksi
Kristen Pettit
Susan Pusker
Shannon Rainey
Frank Reinhardt
Mary Reish
Debra Rodgers
Patrick Russell
Greg Schratwieser
Denise Schulze
Bruce Schumann
Jay Seletos
Kris Self
Jeff Shelton
Ed Sheppard
Casie Shimansky
Frank Sidoti
Allison Solo
Braxton Sowers
Meg Sweeney
Nestor Tatarsky
Sophia Kabialis TradeWinds Island Resorts
Rob Tullman
Kimberly Turner
Paula Tusia
Karen Van Cleaf
Mike & Carol Webb
Nicole Weis
Gay Westfall
David & Liz Whalen
Christine & Tim Wiegert
James Wynn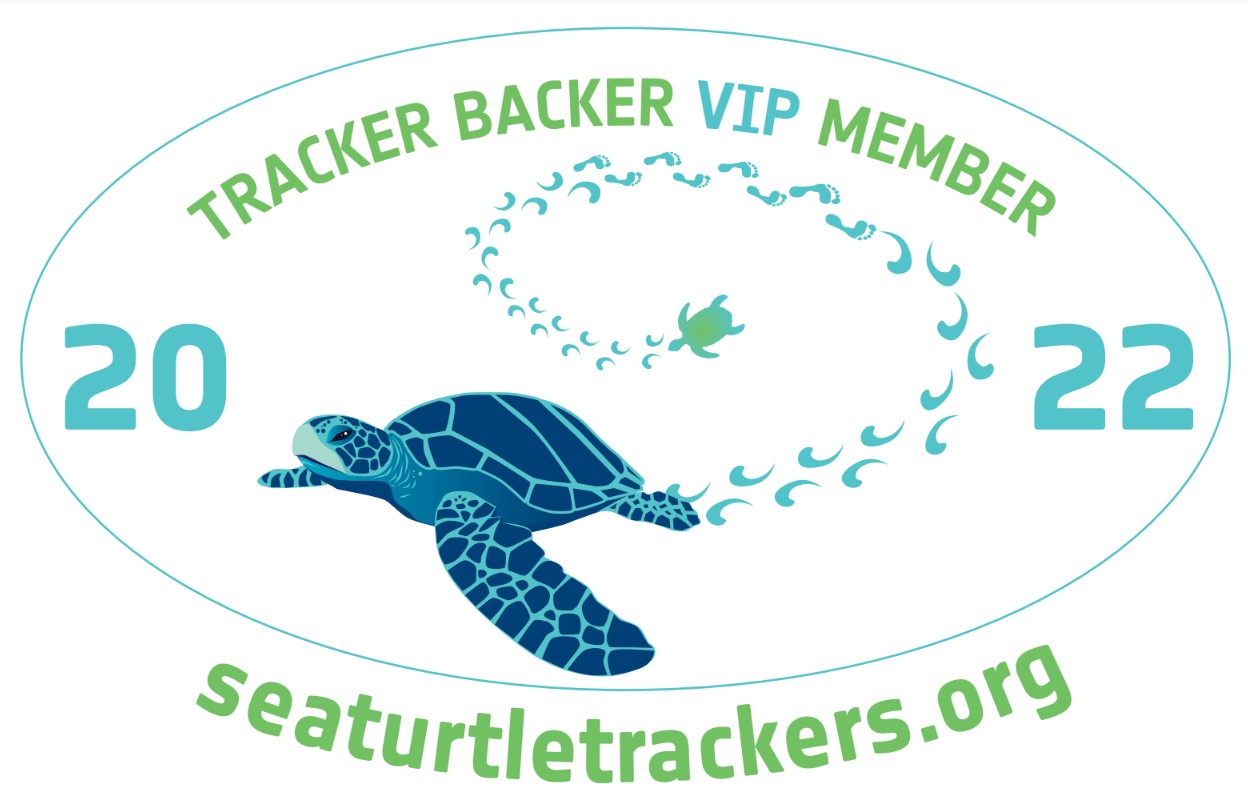 2022 Tracker Backers
VIP Leatherback
Willy LeBihan
Veronica Uribe
VIP Loggerhead
Cindy Ditto
Donald and Angie Nalty
Donna Lamore
Elizabeth Britt
Joshua & Lauren Staggs
Kasey Cursey
Kimberly Loux
Marie Dean
Sakina Ford
Sue Dauterman
Family & Individual
John Sassone
Carolyn Gambuti
Christina James Buchanan
Dawn Laine
Ivy Bevill
Kate Callahan & Family
Molly Robison
Rhonda Yuhasz
2021 & 2020 Tracker Backers
Ana Adler
Lesley Amour
Amy Andersen
Mark Bacchus
Betty Bennett
Katherine Bergman
Jill Bergman
Louise Bergman
Susy Bogan
Kris Brady
Elizabeth Britt
Christina James Buchanan
Kate & Family Callahan
Stephanie Campbell
Megan Carroll
Mildred Ceron
Park Chapman
Skye Choma
Amanda Coffman
Sue Dauterman
Anastasia Davis
Marie Dean
Roberta Delizio
Megan Desrosiers
Thomas S Dilauro
Cindy Ditto
Dana/Roger Dunn
Shannon Elliott
Nancy Engelhardt
Maria Erickson
Sakina Ford
Vicky Foster
Barbara Fox
Jessica Fraley
Carolyn Gambuti
Julio Garcia
Barbara Goodman
Cecil Greek
Karen Hajek
Hands Off Our Elephants
Sonya Hanks
Kathleen Hanlon
Wendy Hayward
anne hensel
Pam Horgen
Kim Iwansky
Bev Jackson
Julio Garcia Jr
Sophia Kabialis
Samantha Kahn
Darlene Kelly
Paul Kimbrough
Carin Korros
Lucinda Krouk
Dawn Laine
Nancy Lane
Michele Langfitt
Isabel Lawrence
Hedi Leistner
Lynn Lenihan
Les Llloyd
Sandy and Pamela Mabery
Julia Marchant
Russell Martin
Amanda McCarty
Denise & Trevor McLean
Sherri Mims
Ann Mohr
Pam & Payton Montague
Lori Nemeth
Amy Newman
Rhonda Omslaer
Diane Painter
Katharine Parker
Deborah Parker
Claudia Pettee
Leslie Price
Steve Risner
Molly Robison
Pam Sarris
Sara Lee Saunders
Debe Sharp
Patty Smith
Jennifer Spesia
Jenny Sprung
Anita Stiles
Sharon Sullivan
Justin Thain
Kim Tompkins
Suzy Venezia
Sandra Watson
Sandy Winter
Nicki Wright
Jaime Griffon
This gift is being made in honor of Donald & Angie Nalty. For any name recognition or membership benefits, please note their names vs. mine. Thank you!
Ivy Bevill
Family Membership to help save the turtles